Jason Momoa's Fast X Villian Broken Down In Detail By Director
The director behind Fast X breaks down the villainous Dante in great detail. Started in 2001, the mainline Fast & Furious saga is set to receive an epic two-part finale starting with Fast X, which is directed by Transporter's Louis Leterrier and will be released in theaters on May 19. Joining the franchise in Fast X is Aquaman's Jason Momoa as the flamboyant villain, Dante, who has significant ties to the Fast & Furious franchise's past and is seeking revenge against Dom and his crew.
During a recent interview with Total Film (via Games Radar), Leterrier broke down Dante in great detail, describing his personality, motivation, and commitment to family. The Fast X director described Momoa's villain as "pure chaos" who is somewhat obsessed with Dom. Read Leterrier's full breakdown below:
Dante is in awe of Dom. He's analyzed him. There's nowhere to hide, because he knows Dom better than he knows himself. Dom truly meets his match with Dante. Family goes both ways. There's family on your side. There's also family on the other person's side. When the family that was your super-strength becomes your Achilles' heel, it's where you're going to get wounded the most.
Related: Fast X Trailer Shows The Best Way Of Bringing Back Paul Walker's Brian
Everything We Know About Jason Momoa's Fast X Villain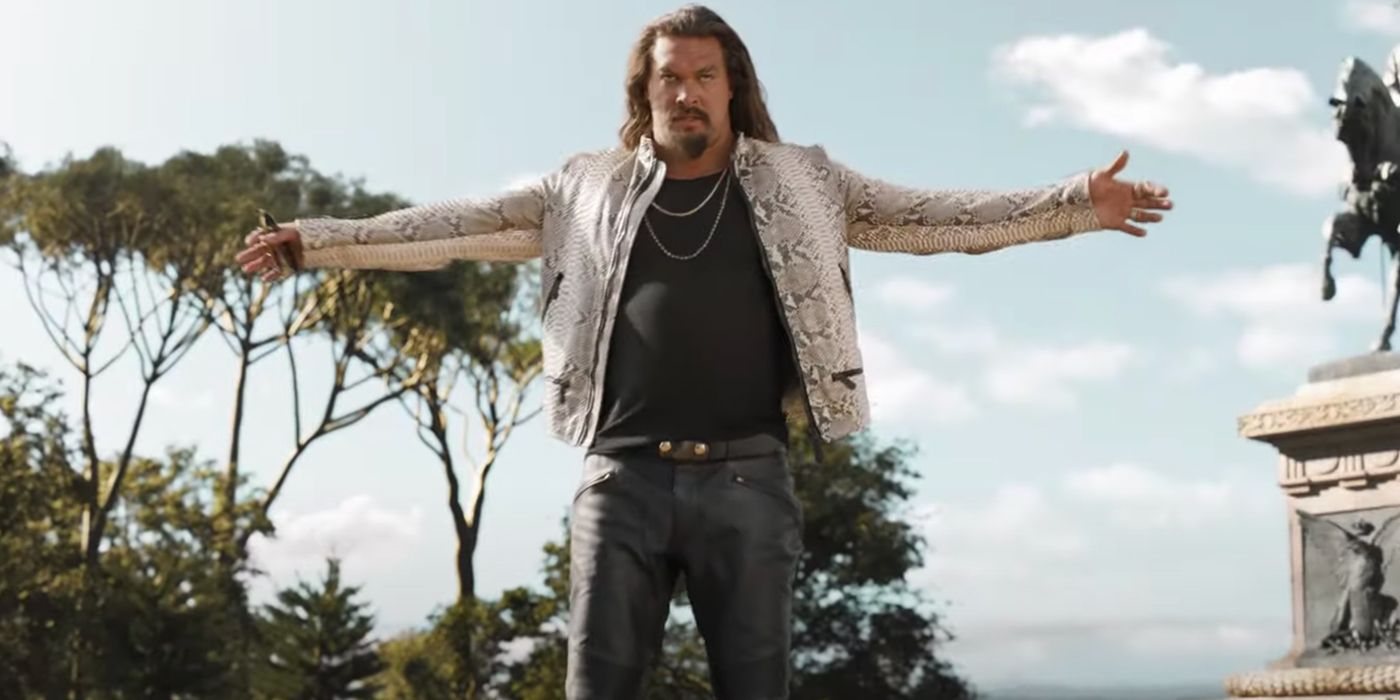 Momoa broke his silence on his Fast X villain this past summer, describing Dante as "very sadistic and androgynous" and "a bit of a peacock" who has "definitely got some daddy issues." Earlier this month, the Fast X trailer revealed that Dante is the son of Fast Five villain Hernan Reyes and in a Rashomon-esque perspective twist, was present during the Rio bank heist and trying to protect his family's safe. Reyes is executed by Dwayne Johnson's Hobbs at the end of Fast Five, which is why Dante is now hellbent on exacting revenge against Dom and his crew.
As he seeks revenge for his father's death in Fast X, Dante will join forces with Charlize Theron's Cipher and kidnap Dom's eight-year-old son, Brian. Similar to the Fast & Furious franchise's main protagonist, Dante is motivated mostly by his commitment to his family and desire for revenge, positioning him as a maniacal mirror image of Dom. With a well-known star portraying the unpredictable character, Momoa's Dante is one of the more intriguingly complex villains the franchise has had and appears worthy of the epic penultimate installment that Fast X will be.
More: Fast & Furious' Future Kids Tease Is So Silly It Will Probably Happen
Source: Total Film (via Games Radar)
Key Release Date