How Paul Walker Returns In Fast X Explained By Director
Fast X director Louis Leterrier addresses how Paul Walker's Brian O'Conner features in the upcoming sequel. After first being introduced back in 2001's The Fast and the Furious, Walker's character would go on to play a prominent role in many subsequent franchise installments. Walker tragically died in a car accident in 2013 partway through filming Furious 7 and hasn't been featured in the franchise since, but his character remains alive in the world of the films.
SCREENRANT VIDEO OF THE DAY
With the Fast X release date now about three months away, Leterrier sat down for an interview with Total Film (via GamesRadar) to discuss his upcoming sequel. Walker's character was briefly seen in the Fast X trailer during a flashback, but the director reveals that O'Conner won't appear during any scenes set in the franchise's present-day timeline. This would suggest that Walker won't be recreated at all using CGI. Check out Leterrier's full comment below:
"Well, Brian is very much alive in the world of Fast & Furious, and they've teased him a lot in the previous movies. In 9, we see the car coming. It's something that is planned. This movie jumps back and forth between the past and the present. You will see Brian in the past, you won't see Brian in the present. It's something that everybody has to be on board with. The Walker family is still very much a part of this franchise, you'll see how in this movie. It just has to be the right moment, the right tone. I think what James Wan did at the end of 7 was perfect. The tone was perfect. Brian has to re-enter the franchise as perfectly as he left it."
Related: How Jason Momoa's Fast X Villain Connects To Fast 5
Could Paul Walker's Brian O'Conner Return In Fast & Furious 11?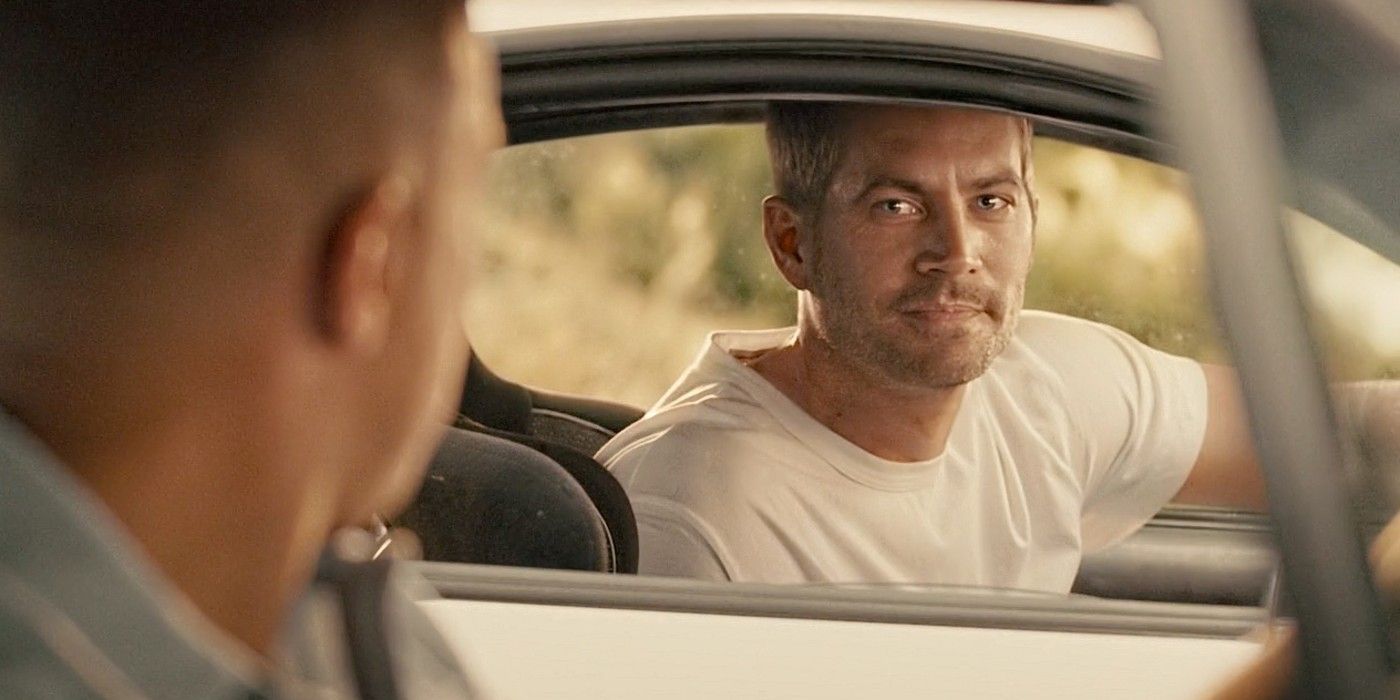 Fast X is intended to serve as the penultimate installment in the Fast & Furious franchise, with an eleventh and final film expected to arrive at some point in the future. While Furious 7 served as a moving tribute to Walker, featuring the actor's character driving off into the sunset, it seems very likely that the actor will be recreated using CGI in the expected eleventh movie. Walker, after all, played a crucial role in making the franchise as popular as it is today.
When Walker died partway through filming of Furious 7, it was ultimately decided that he would be recreated using CGI to film his remaining scenes. The actor's two brothers served as body doubles on set, and it's possible that a similar method could be used to bring the character back in Fast & Furious 11. It seems like a safe bet to say that Walker's character will return in some capacity in the final Fast & Furious movie, but the biggest question is whether he will play a prominent role in the movie's story or if it will be more of a digital cameo in order to give O'Conner a sense of closure alongside Vin Diesel's Dom and the rest of the crew.
As Dom frequently likes to make clear, the Fast & Furious movies are really all about family. Most of what Dom does is out of an effort to protect his family, both blood relatives and the brothers and sisters he's picked up along the way. Walker's Brian was a crucial part of this family for a number of the previous films and, while he will only be appearing in flashbacks in Fast X, it's possible that the character will get another fitting farewell in the present before the franchise reaches the end of the road.
More: Why The Fast & Furious Franchise Is Ending (& When it Will)
Source: Total Film (via GamesRadar)
Key Release Dates