Fast & Furious' Corona Use Is Even Deeper Than You Realize
One of the many staples of the Fast & Furious franchise is the appearance of Corona beer, but there's more to the product placement than meets the eye. Since the series' first entry in 2001, Corona bottles have been a common prop in the Fast & Furious movies. Among the core elements one can expect from any movie in the franchise are the frequent use of the word "family," the increasingly silly action set pieces, and at least one scene of the main Fast & Furious cast drinking bottles of Corona.
SCREENRANT VIDEO OF THE DAYSCROLL TO CONTINUE WITH CONTENT
Vin Diesel's Dominic Toretto and his crew of high-performance drivers have overcome a plethora of incredible, logic-defying scenarios in their impressive 21-year tenure, including but not limited to stopping a nuclear submarine and even achieving space travel. But through all of their remarkable adventures, the one thing that has stuck by them since the beginning has been Corona beer, the Fast Saga family's choice drink after a long day of saving the world. However, Corona's inclusion in Fast & Furious has a considerable amount of meaning to the characters and themes of the long-running action franchise.
Related: Furious 7: How Brian's Bus Jumping Scene Was Shot (Did Paul Walker Do It?)
Despite what audiences might think, Corona's Fast & Furious product placement, which has become synonymous with the franchise, isn't really product placement. In fact, Corona does not pay for their beer to be used in the Fast & Furious movies at all. The beer brand serves as a symbol of home and family and is an odd piece of character development for the series' protagonists, rather than an advertisement. This is an incredibly clever use of a product and provides the Fast & Furious series with one of its many unique qualities that sets it apart from other Hollywood franchises.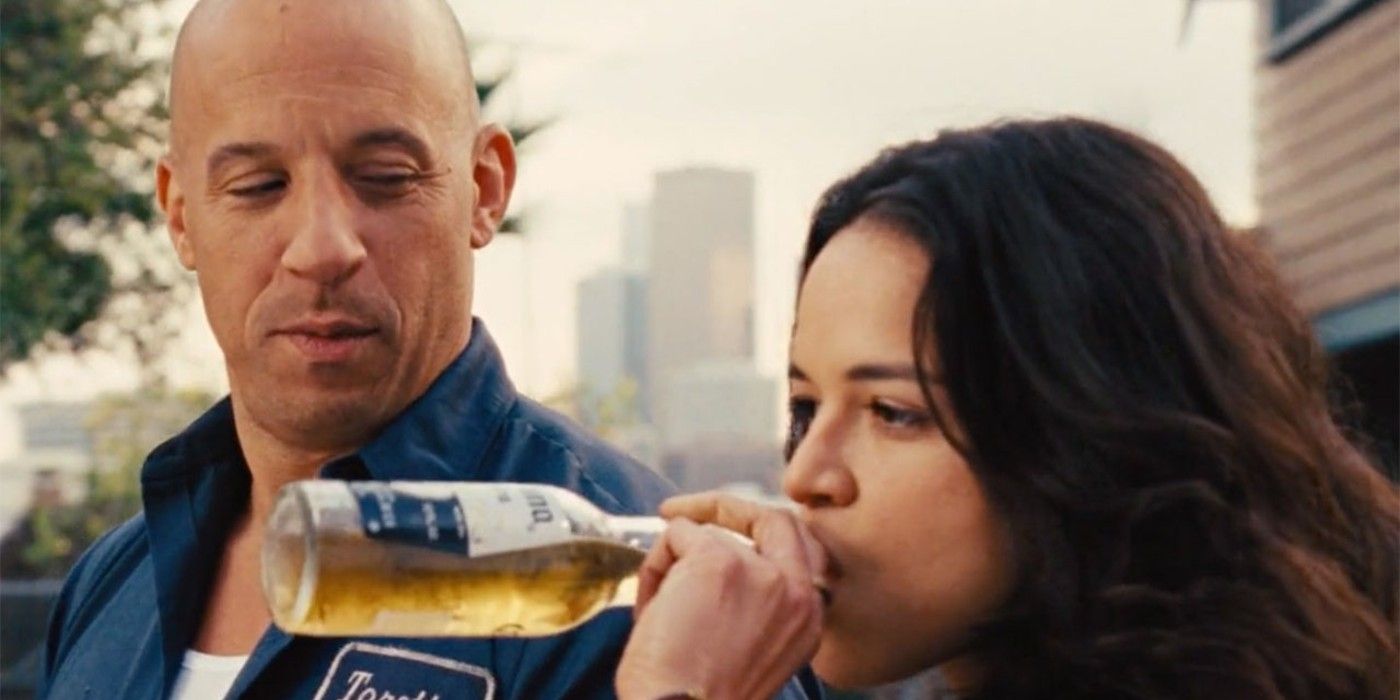 There are only a few Fast & Furious movies that do not include the Corona brand, and this seems very purposeful. The Paul Walker-led 2 Fast 2 Furious and the third entry, The Fast and the Furious: Tokyo Drift, both lack an appearance from Corona beer, as they are the two installments not focused on the family man himself, Dominic. Fast Five is also missing the product placement, as the crew found themselves in Brazil, far away from their home, further signifying Corona's tie to the franchise's themes of home and family. The eighth installment, The Fate of the Furious, was the first in the series to be missing star Paul Walker after the actor's tragic death in 2013, and the movie is also missing Corona. The exclusion there suits the family being broken, a theme also represented by Dominic being forced to go rogue by Charlize Theron's villainous Cypher.
The Fast & Furious franchise has found a way to incorporate a real-world product into the movies in a way that transcends simple advertising gimmicks. The beer brand has remained a symbol of home and family throughout the series and has been used to define the unbreakable bond of Dominic's crew. Through every car-related stunt they must pull off to save the world, Corona is there to remind both the characters and the audience that there's no place like home, and no bond as strong as the one you share with your family.
Next: Dropping Furious From Fast 10 Symbolizes How The Movies Have Changed
Key Release Dates