The Rock Rejects Vin Diesel's Plea For Him To Join Fast & Furious 10
Dwayne "The Rock" Johnson rejects Vin Diesel's recent plea for the former WWE star's return to Fast & Furious 10. The Rock and Diesel have been locked in a feud for the last few years. While the union of these two mega action stars seemed like a recipe for perfect filmmaking chemistry, both actors' massive personalities struggled to get along. Although Johnson joined the Fast & Furious franchise with 2011's Fast Five entry, it wasn't until 2017's The Fate of the Furious that the feud became public.
SCREENRANT VIDEO OF THE DAYSCROLL TO CONTINUE WITH CONTENT
Johnson made an Instagram post on August 8, 2016 (which has since been deleted) that praised his female co-stars and criticized some of his male co-stars from The Fate of the Furious. While Johnson dubbed these co-stars "candy asses," he never fully named any names; however, rumors quickly circulated that the post was directed at Diesel and his conduct on the film's set. Since Johnson's original post, he and rival Diesel have both acknowledged the feud between them in various interviews and social media posts. Although the pair have reportedly made up in recent times, it seems Johnson still believes Diesel is not being entirely genuine, especially with Diesel's latest plea on social media. Back in November of this year, Diesel took to Instagram to plead for his "little brother Dwayne" to return to the franchise, which Johnson appears to have rejected.
Related: The Rock & Vin Diesel's Feud – Complete Timeline Explained
In an interview with CNN Entertainment, Johnson expresses his belief that Diesel's recent plea for his return to the Fast & Furious 10 is an example of the actor's "manipulation." Johnson explains that he and Diesel had private conversations in which the WWE star made it clear he would not be returning to the Fast & Furious franchise. Johnson says he was "firm yet cordial with [his] words," and that he would "always be supportive of the cast;" however, he goes on to say there's "no chance [he] would return." View Johnson's response to Diesel's plea for him to return to the franchise below:
"I was very surprised by Vin's recent post. This past June, when Vin and I actually connected not over social media, I told him directly – and privately – that I would not be returning to the franchise. I was firm yet cordial with my words and said that I would always be supportive of the cast and always root for the franchise to be successful, but that there was no chance I would return. I privately spoke with my partners at Universal as well, all of whom were very supportive as they understand the problem.
Vin's recent public post was an example of his manipulation. I didn't like that he brought up his children in the post, as well as Paul Walker's death. Leave them out of it. We had spoken months ago about this and came to a clear understanding. My goal all along was to end my amazing journey with this incredible 'Fast & Furious' franchise with gratitude and grace. It's unfortunate that this public dialogue has muddied the waters. Regardless, I'm confident in the 'Fast' universe and its ability to consistently deliver for the audience, and I truly wish my former co-stars and crew members the best of luck and success in the next chapter."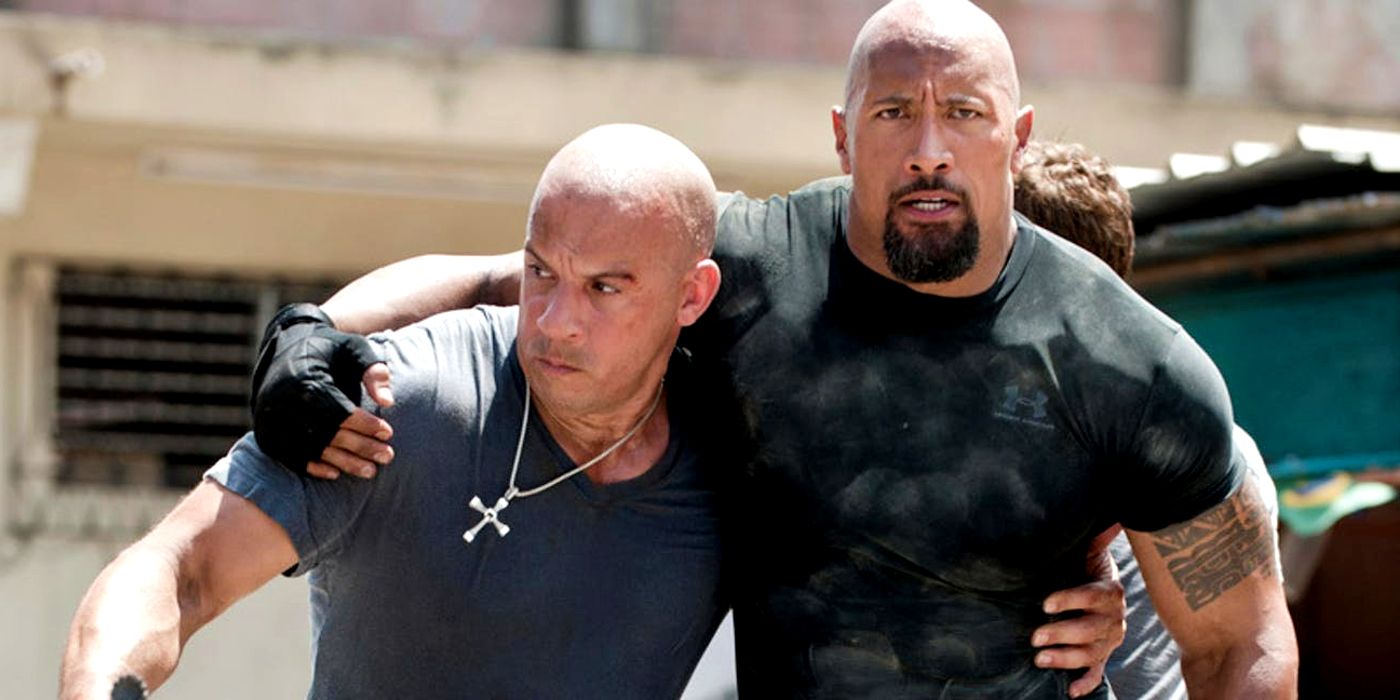 In the interview, Johnson also explains that he didn't like Diesel bringing up his children in the Instagram post, in which Diesel wrote that his children refer to Johnson as "Uncle Dwayne." Diesel also said "there's not a holiday that goes by that [his children] and [Johnson] don't send well wishes." Additionally, in the interview, Johnson also says he didn't appreciate Diesel bringing Paul Walker's tragic death into the equation. Diesel wrote in his Instagram post that he was going "fulfill [his] promise to Pablo" (Walker's nickname) in making the "best Fast in the finale that is 10!" Johnson appears to have simply responded to these things by telling Diesel to "leave them out of it," in reference to both Walker and Diesel's children.
For fans of Johnson's Fast & Furious character, Luke Hobbs, they may be disappointed to learn that The Rock has no intentions of ever returning to the franchise. Although he and Diesel were reported to have "made up" in the past, it seems Johnson still does not want to work with Diesel ever again. With that said, there is still a chance that Johnson will reprise his role in the Fast & Furious spin-off, Hobbs & Shaw, sequel. Otherwise, audiences can look forward to seeing their favorite characters, besides Johnson, return to Fast & Furious 10 once it releases in 2023.
Next: How Red Notice Continues The Rock And Vin Diesel's Feud
Source: CNN Entertainment