Every Car The Main Characters Drive In F9
The Fast Saga's latest, Fast & Furious 9, features an array of souped-up cars as always, and here's every car the main characters drive in F9. There have been 10 films in the franchise so far (eight in the main saga and two spinoffs, Hobbs & Shaw and Fast & Furious: Tokyo Drift) and the Fast and Furious series stands proud in the top 10 highest-grossing franchises of all time. Over the last two decades, the plots of the Fast and Furious movies have grown more and more complex, but the creators have never forgotten about the cars.
F9 sees Dominic Toretto (Vin Diesel) and his crew face old and new foes alike. Dominic's archnemesis Cipher (Charlize Theron) teams up with Dom's long-lost brother, Jakob (John Cena), as she wants revenge on Dom and his family. Jakob is a skilled assassin with a vendetta against his brother and plans to activate a device that can control any piece of technology running on code, and Dom, Letty (Michelle Rodriguez), Roman (Tyrese Gibson), Tej (Ludacris), Mia (Jordana Brewster), Ramsey (Nathalie Emmanuel), and the newly-returned Han (Sung Kang) must stop him.
Related: F9: Vin Diesel's Son Took His Young Dom Role Very Seriously
As noted above, since 2001, the Fast and Furious movies keep evolving in complexity and action intensity. Global-scale heists and the importance of family have replaced the original street racing plot of Fast and Furious: In the original The Fast and the Furious, the main characters want to steal a truckload of VCR tapes; in F9, they go to space and save the world from Dom's evil brother. Nevertheless, there is one element that remains consistent throughout the series: the incredible cars. Here are all the cars the main characters drive in F9.
Dominic Toretto – 1968 Dodge Charger 500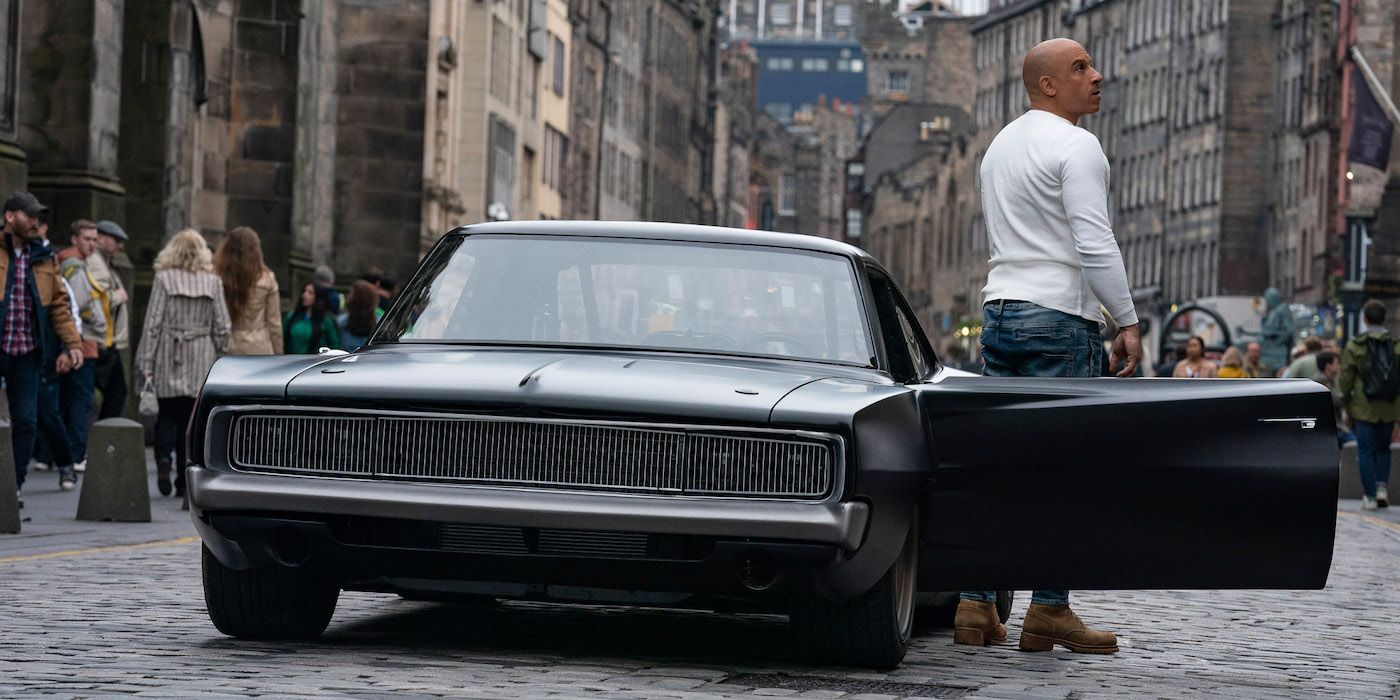 This is not the first time Dominic Toretto has driven a Dodge Charger in the series. As the Fast and Furious movies progressed, so did the Charger. For F9, this version of the Charger was made in a custom car shop in Wisconsin, and it cost over $1 million. Its Hellcat engine makes it a supercharged 6.2-liter V-8–powered machine; Dominic Toretto loves a muscle car. Dom's car rides on a lowered suspension, and the fenders at the back have been widened to give it an even more dynamic look. The stunt cars cost a bit less, as they are powered by LS3 crate motors with plastic molds of the Hellcat's supercharger on top (via Car And Driver).
 Letty Ortiz – Yamaha YZ450F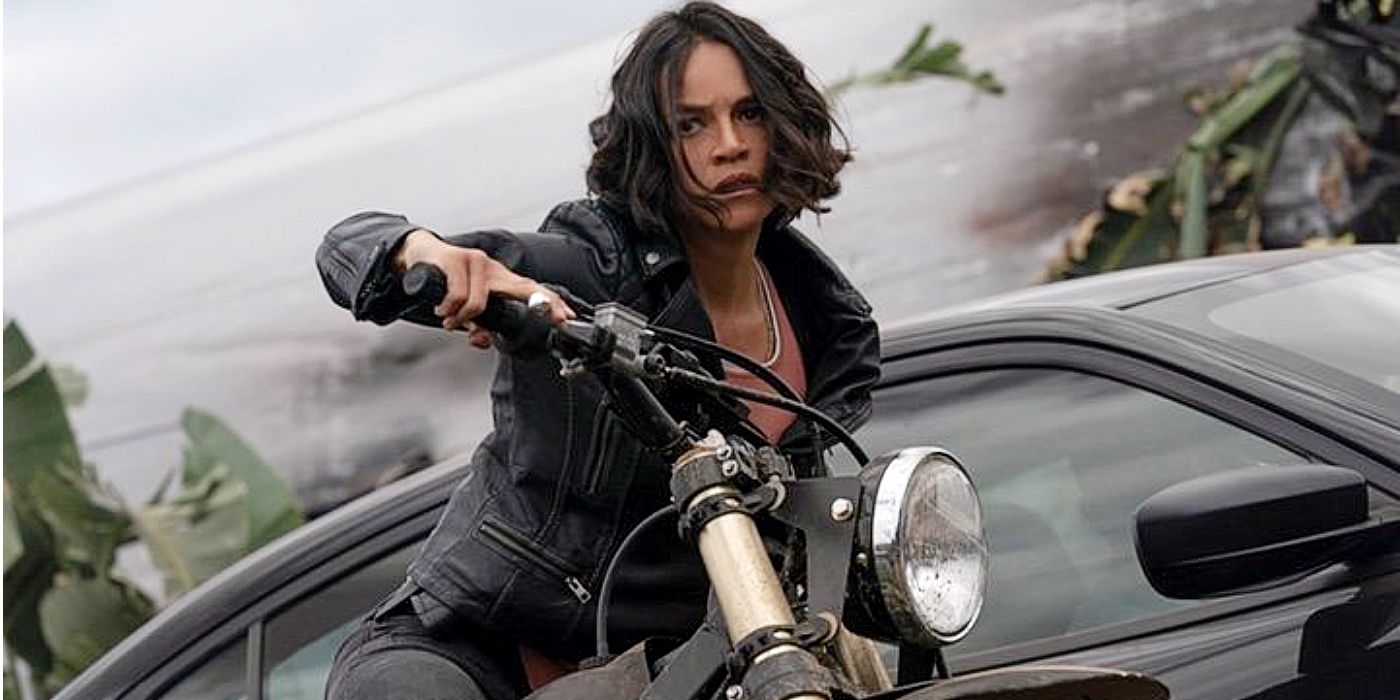 Letty is Dom's wife and longtime love who has been by his side in all car racing, but she swaps out her car for a sleek Yamaha YZ450 motorcycle in F9. The four-stroke racing motocross bike looks good next to Dom's wide Dodge Charger. With a compact motor and aggressive style, it's the perfect transport for Letty. After all, if Letty were driving a car, she couldn't fly into the air and land on Dom's car as she does in F9.
Han Lue – 2020 Toyota Supra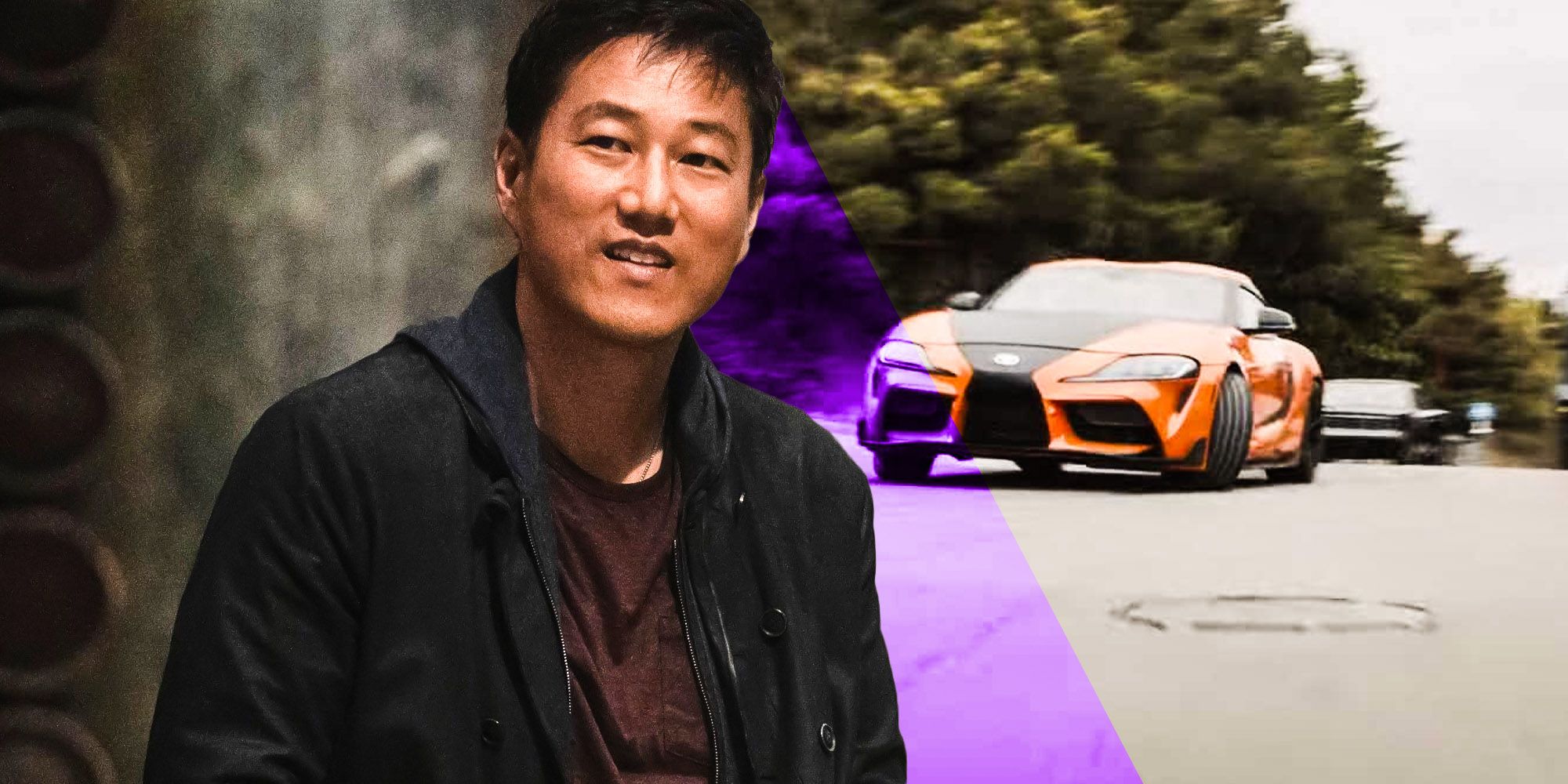 Among Fast and Furious 9's biggest surprises was Han's return. After his car exploded into a giant fireball with him inside it in Tokyo Drift, it appeared he'd be gone for good once the Fast & Furious timeline caught up. Although Han appeared on screen again in Fast Five and Fast & Furious 6, those movies happened in the past. F9 sees Han return for good, and with a new ride. In F9, Han drives a black-and-orange 2020 Toyota Supra, which references the colors of the 1997 Mazda RX-7 that Han last drove.
Related: When F9 Is Set In The Fast & Furious Timeline
Roman Pearce – 2020 Jeep Gladiator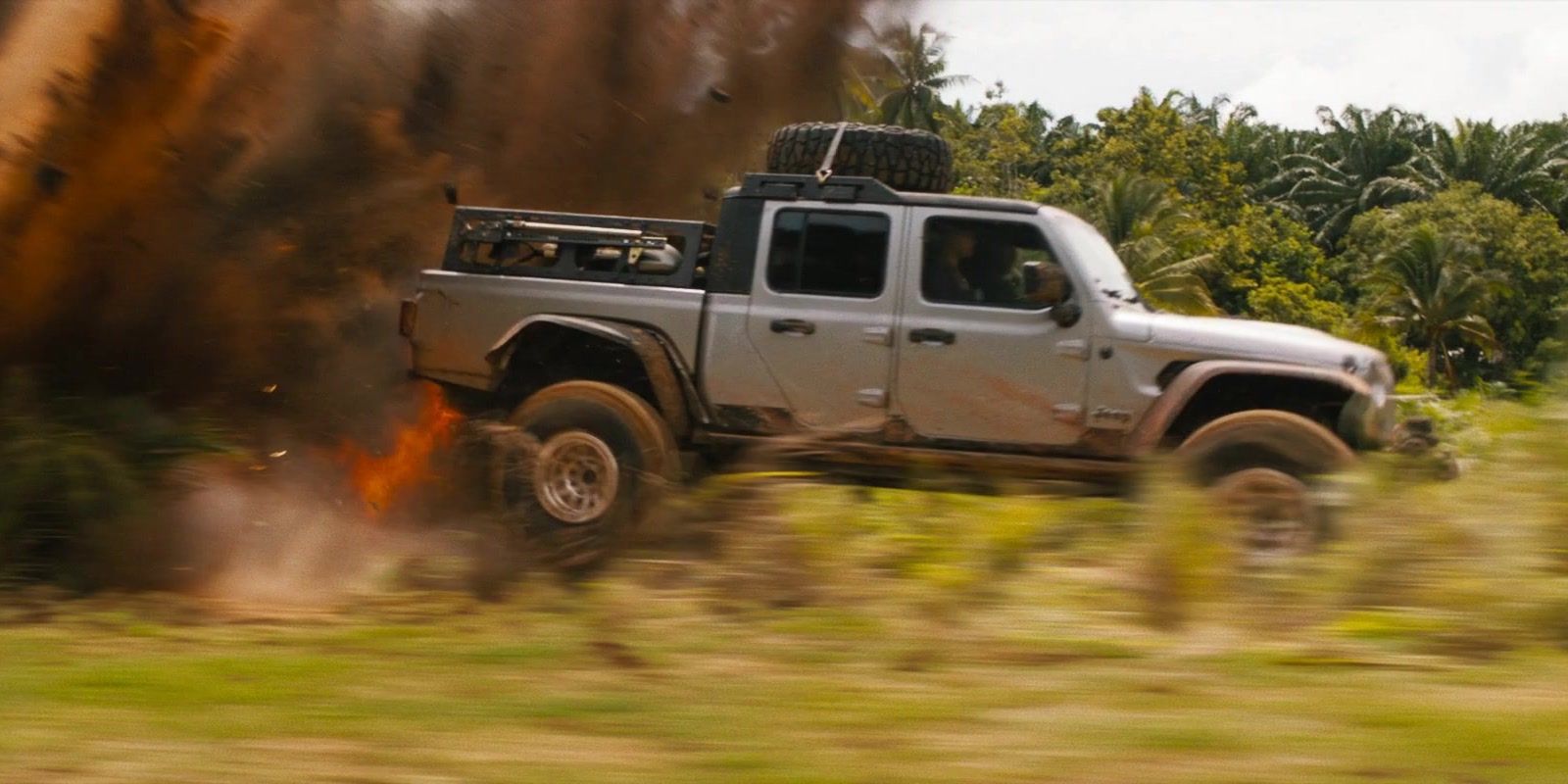 Roman, Dom's trustworthy sidekick, drives a 2020 Jeep Gladiator. The brand-new mid-size pickup truck is more than a good fit for jungle off-roading and rugged terrain. The Jeep Gladiator tows almost twice as much as the Wrangler, and it has huge off-road tires and other features including a roof-mounted spare, metal bumpers, a front-mounted winch, and a lifted suspension. A utility vehicle like that is necessary for the increasing complexity of the Toretto crew's schemes.
Mia Toretto – 1974 Chevrolet Nova SS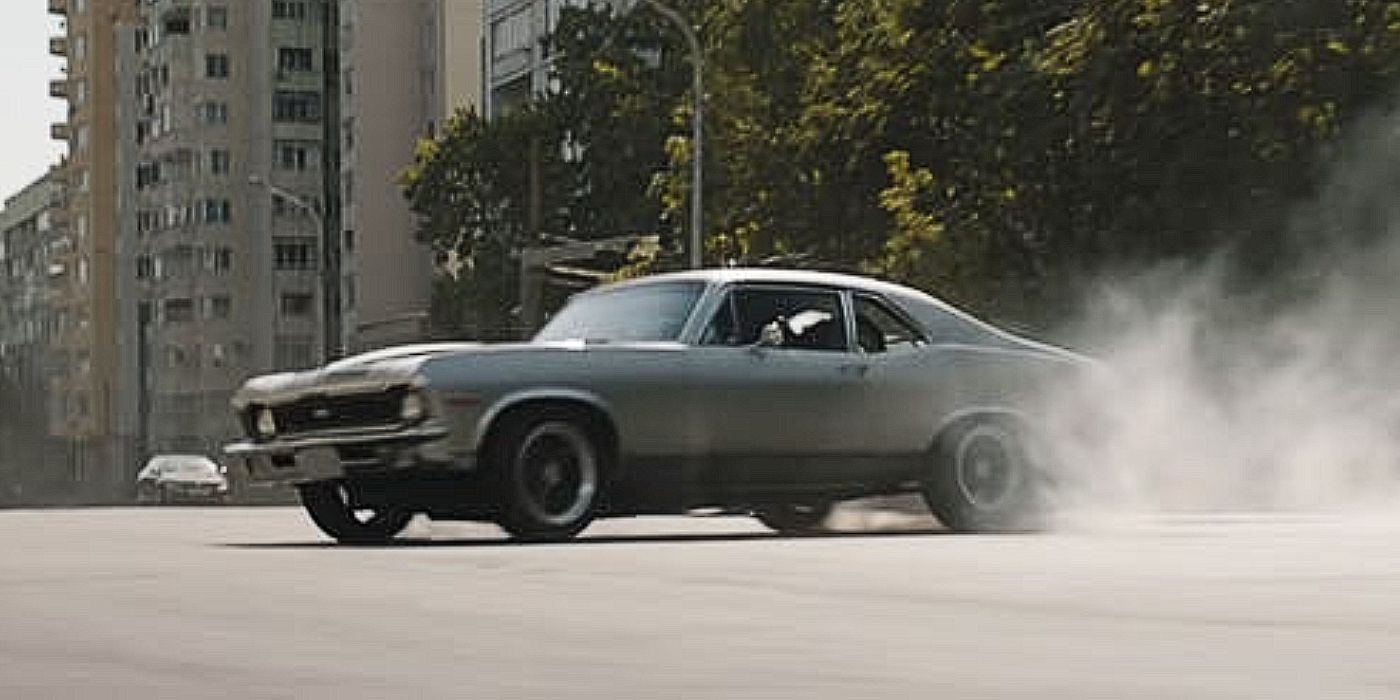 After the tragic death of the Fast and Furious franchise's Paul Walker in 2013, it seemed as though Mia Toretto wouldn't be returning to Fast and Furious. Dom's younger sister reappears in F9, though, this time driving a 1974 Chevrolet. The 1974 model received a new grille with a loosely patterned crosshatch insert and parking lights located inboard of the headlights.
Tej Parker & Roman Pearce – 2018 Acura NSX
Arguably one of the most beautiful cars in the Fast and Furious saga, the Acura is given to Roman as an aid in the battle with Jakob. Roman and Tej drive the Acura to Edinburgh, where its sleek design works in perfect contrast to the classic brick buildings. It makes sense that Tej be inside this car – he drove a 1991 Acura NSX NA1 in 2 Fast 2 Furious, after all. The new Acura has a hybrid-electric powertrain engine: it combines a 3.5-liter twin-turbocharged V6 section and an electric motor section, achieving a total horsepower of 573 (and reaching 60 mph in 3.1 seconds).
Tej Parker & Roman Pearce – Customized Pontiac Fiero
Falling into the "don't try this at home" category, F9 sees Roman strap a rocket to his Pontiac Fiero and jet-power himself and Tej into space to curb Jakob's plan to control all code-powered devices. It might seem like an exaggerated scene, but this is the same movie that has Dom use his own car as a slingshot, rescuing Letty mid-air and landing safely at the end. And, after all, if they're going to potentially destroy a car, it might as well be an old Fiero rather than a newly customized car.
Related: F9: Why They Go Into Space (How Realistic Is It?)
Every Other Car Featured In F9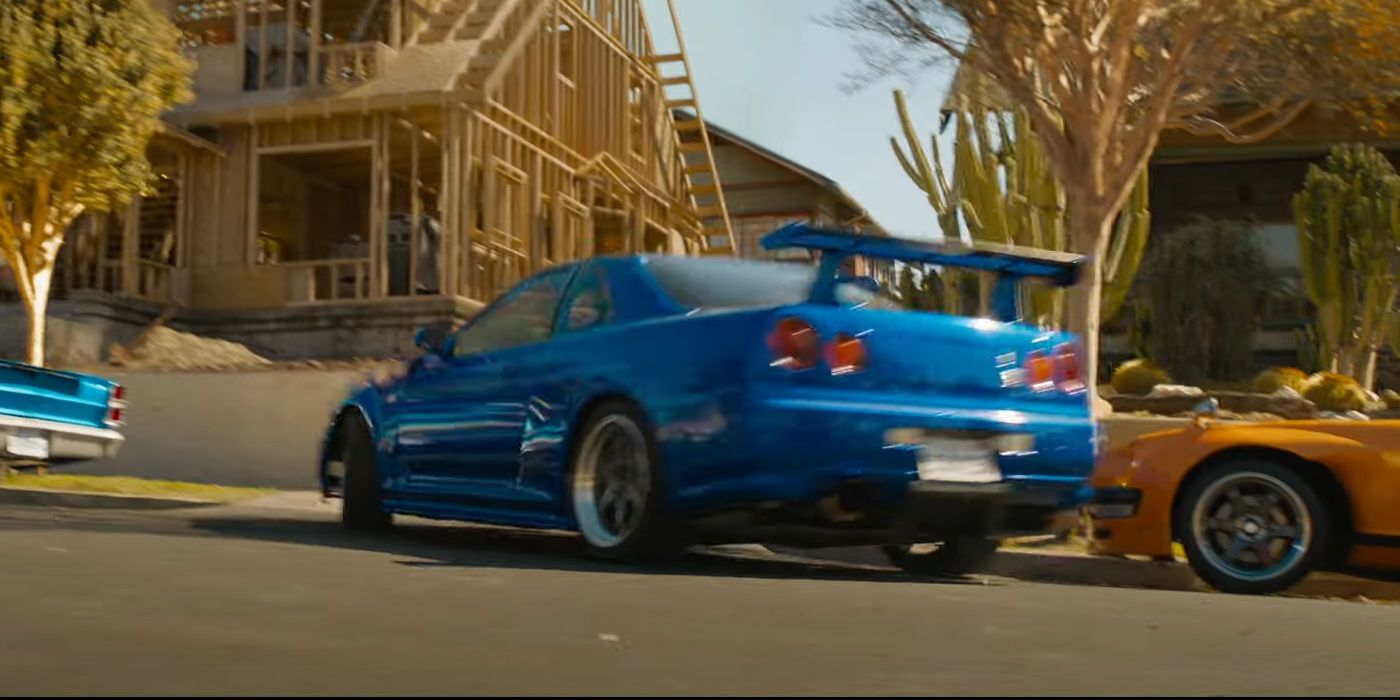 1999 Nissan Skyline GT-R R34 – F9 found a touching way to incorporate Paul Walker's character. At the end of the movie, the Toretto crew is gathered around for dinner when Mia explains Brian is on his way. Just then, Brian's signature, bright blue 1999 Nissan Skyline pulls up, implying Brian has arrived.
Jeep Grand Cherokee Trackhawk – At the beginning of the movie, Tej, Roman, and Ramsey come to Dom's home to warn him about Mr. Nobody in a Jeep Grand Cherokee Trackhawk. Of Fast and Furious 9's expensive cars, the Trackhawk is a pricey SUV with a huge towing capacity (7200).
Jaguar XE SV Project 8 – Ultra-wealthy villain Otto (Thue Ersted Rasmussen) drives the impressive Jaguar XE SV Project 8, described as thus: "With 600PS from a 5.0-liter supercharged V8 engine, Project 8 is the most powerful road-legal Jaguar in history." (via Jaguar). However, none of this power can help Otto when Ramsey knocks his car off the road and stops him from helping Jakob in his escape.
Noble M600 – An even more expensive car (at a staggering $250,000) is the handbuilt British speedster, the Noble M600, driven by Magdalene (Helen Mirren), Deckard and Owen Shaw's mother. The unrealistic scene of Magdalene escaping all those police cars in under a minute may be explained by the M600's impressive twin-turbocharged V8 Volvo engine. It can reach a speed of 225 mph.
Ford Mustang GT – Finally, Jakob Toretto, the movie's main villain, drives a Ford Mustang GT, equipped with carbon-fiber body mods.
The Armadillo – It's also worth mentioning the Armadillo – a monster truck based on the Mercedes Unimog range, that took engineers close to four months to build for Fast and Furious 9. In a now-famous scene, Han and Dom bring the 14-feet-high behemoth to topple on itself.
Next: The Fast Saga Should Kill One Of The Main Characters (& Not Bring Them Back)