F9 Director's Cut Fixes Cardi B's Cameo
The director's cut of F9: The Fast Saga fixes Cardi B's cameo by restoring a deleted second scene featuring the rapper. Cardi B played the role of Leysa in Fast and Furious 9 – a resourceful member of Queenie's (Helen Mirren) underworld crew with ties to Dom Toretto's past. Leysa ends up saving Dom from Jakob and Otto by disguising herself and her team as Interpol agents, but the cameo is way better with an additional scene that was cut from the theatrical version of the film.
Supporting roles from rappers and hip hop stars have been a core part of the Fast and Furious franchise since the very first movie, which featured Ja Rule as one of Dom's street racing rivals. Later installments brought in names like Ludacris – who ended up becoming one of the leading stars of the series – Don Omar, and Bow Wow. When it was announced that Cardi B would be featured in F9, it seemed like the next logical step.
Related: Fast & Furious 9 Shows Where Hobbs & Shaw Went Wrong
In the theatrical cut of F9: The Fast Saga, Cardi B only appears in one scene. Dom is captured by Interpol agents, who reveal themselves in their truck to be a squad of Queenie's agents in disguise, led by Cardi B's Leysa. However, the film original featured an extra scene with the rapper that took place minutes before. In the director's cut, the scene is restored, showing Cardi B greeting Dom in a bedazzled dress as he approaches Jakob and Otto's party.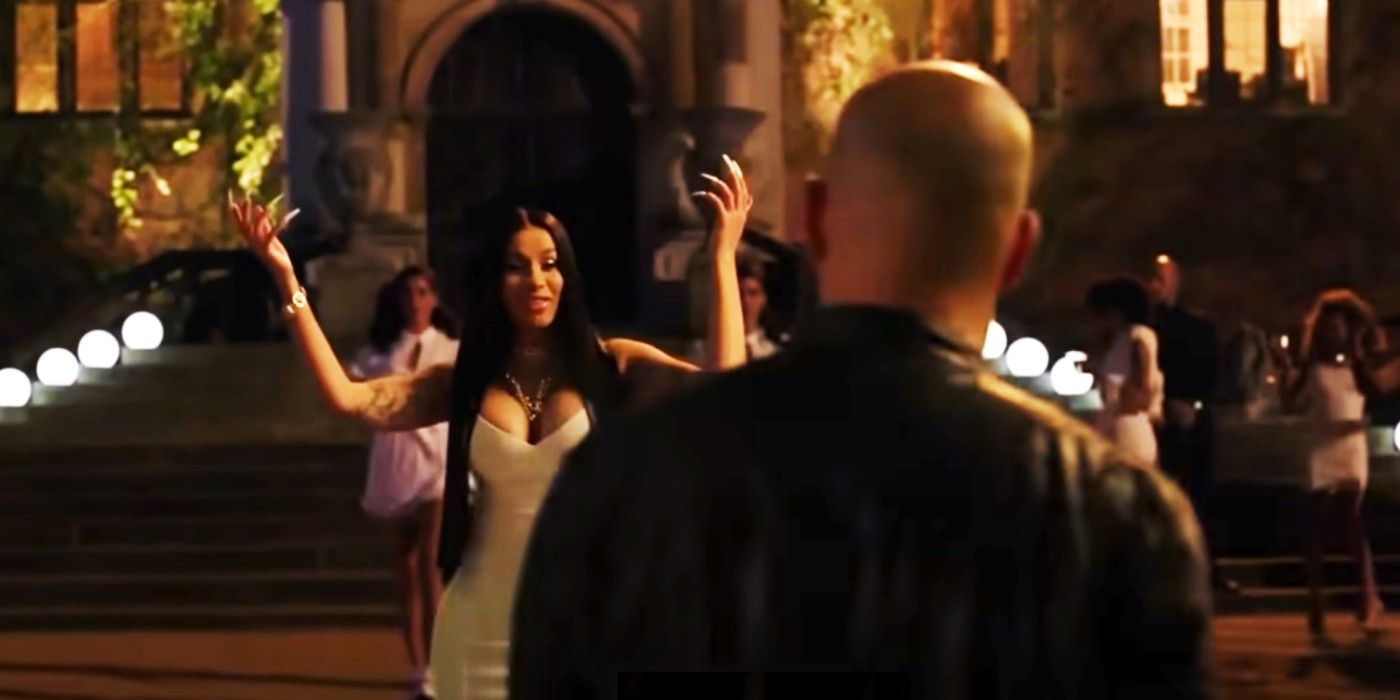 While Cardi B's F9 cameo is still fun in the theatrical cut, it's far better in the director's cut. The extra scene creates a fun bait-and-switch, making the audience believe that the rapper's cameo is just the brief shot at the party, only for it be revealed that her character actually has a lot more going on. In the special features of the F9 director's cut, director Justin Lin even says that he wanted to flip the traditional celebrity cameo on its head with Leysa. Unfortunately, the removal of her first scene removes the twist component.
Still, at least the Fast and Furious 9 director's cut has restored Cardi B's cameo to what it was originally meant to be. Vin Diesel has confirmed that Leysa will return in Fast and Furious 10, which means the rapper could have an even bigger role in the franchise going forward. Cardi B was a fun addition to F9: The Fast Saga, and it should be equally fun to see her return.
Next: Every Fast & Furious Movie Ranked From Worst to Best (Including F9)